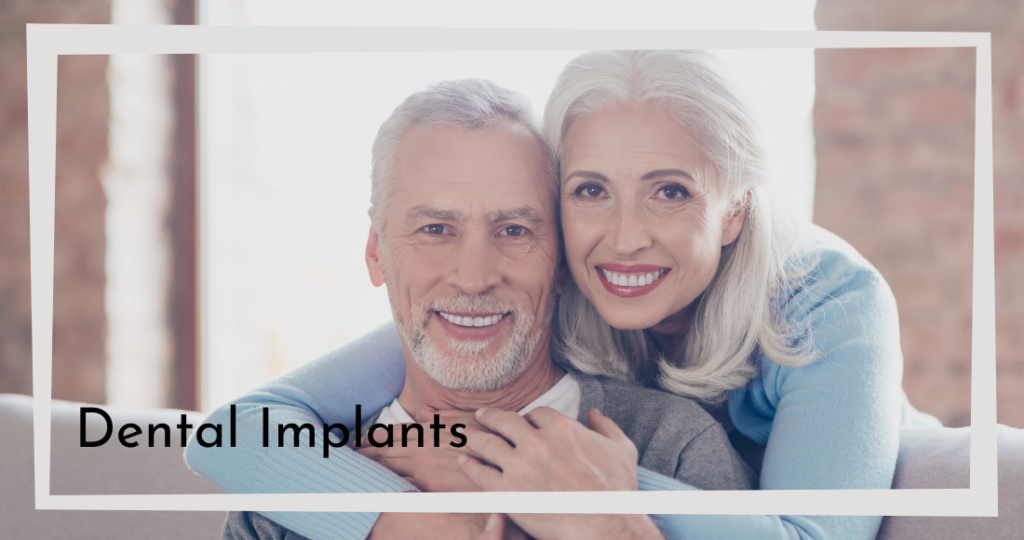 Dental Implants – You Can Feel Awesome Again and Smile Like Never Before

Compared to partial or removable dentures, dental implants provide much more stability and support, so they are a better solution for replacing missing teeth. They comprise artificial (man-made) teeth and roots, which are surgically placed into the lower and upper jawbone.
The teeth which are a part of these dental implants have a very natural look that will restore or enhance our patient's smile. Even though they may have to be tightened or even replaced due to wear occasionally, they are very durable, stable, and strong, lasting for many years.
Dental implants are a permanent solution.  This gives you confidence for years to come that your smile will be strong and healthy.
There Are Many Good Reasons To Have Dental Implants. Below Are Listed Several of Them:
They can many times restore a dental patient's confident smile.
They can often help a patient's ability to speak more evident, chew their food more thoroughly, and even their ability to digest their food better.
They have helped enhance or restore a patient's fallen facial tissues.
They can help make a person's denture or bridge more comfortable and secure by providing better support.
They are very effectively used to restore one or more missing teeth without adversely affecting adjacent teeth.
They can be used to resolve problems with a patient's bite or their jaw joint pain when teeth start to shift into a missing tooth gap.
Getting Dental Implants – What All is Involved?
To determine the space available in a dental patient's mouth before the placement of implants, 3-D Digital Imaging is taken of their teeth and jaws, and impressions are made of their teeth and gum tissue.
At the time of the surgical placement of the implants, the gums are numbed, and then the implant or implants are placed. They will each be given an adequate time to heal, several weeks or even months, sometimes before the dental implant post is inserted.
Sometimes our patients will even require a second surgery to place the posts that will be used to hold the artificial teeth in place, depending on the type of dental implants used. In some classes, the anchors and the posts are attached and placed simultaneously. 
Some dental implants may need several weeks to heal sufficiently before the artificial teeth are fixed on the anchor's post position. Some of our patients have had to visit our office more than once because of multiple fittings, causing this phase to take a couple of months to finish. After a sufficient healing time, we will attach the artificial teeth, which will provide comfort to the patient and stability to their teeth.
We will provide proper care instructions for your new dental implants when we complete the treatment. Still, an appropriate at-home oral hygiene program, good eating habits, and maintenance of regular dental visits will significantly extend your implants' life.
Full Mouth Dental Implants If You Are Missing Several Teeth
If you are missing several teeth, you may want to consider full mouth dental implants.  This is 4 to 6 dental implants placed in the lower and upper arches of the mouth to support a full set of teeth called a "hybrid bridge."
This is a full set of teeth that look, feel and function like a full set of natural teeth.
Dr. John Cranham is a dental implant dentist that works closely with patients to help them achieve the smile they have always wanted.  In addition, he helps them to be able to do the things they could not do before such as enjoy certain foods.
Patients report renewed confidence and ability to enjoy their lives much better.
If you have missing teeth, then don't waste another minute.  Call our office today and setup your dental implant consultation with Dr. Cranham and his team.